The day consisted of the team getting their hands dirty and doing some much needed gardening for the shelter. Although the team didn't get to spend time with the animals directly, it was still rewarding for them to see first hand the countless daily tasks that the RSPCA employees take on; from gardening to walking and playtime with the animals. The shelter's handy man informed us that by us helping out with something as simple as the gardening, it meant that the RSPCA staff had more time to work with the animals.
The group were also given a tour of the shelter and told about some of the different types of animals the shelter takes care of as well as some of the different backgrounds the animals have come from. Until the volunteer day, the team didn't have much of an understanding of the long court process that the RSPCA and the animals have to endure before they are eligable for adoption. In some cases it can take up to 2 years for the court to approve the animal for adoption. That's only half the process! There are also many months of rehabilitation and training for some animals to ensure they are suitable for adoption.
While at the shelter, the team said it was good to see how much exercise and time out of their enclosures the dogs seemd to get. It was a lot more than expected, and unfortunately probably a lot more than what they got before they were taken in by the RSPCA. The animal carer that the team had their tour with mentioned that the animals will spend more time out of their enclosures than in them, which was really great to hear!
Overall, the team found the expereince really rewarding. They said "it was an interesting experience and all for a good cause". Even if they didn't get one on one time with the animals, being able to help out in any way was still equally as rewarding. It was truley heartwarming to see how happy all the animals were at the RSPCA Malaga Shelter!
Globetrotter would like the thank the Malaga Shelter for offering them this great opportunity to take part in their Corporate Volunteering Program.
We would also like to thank our staff volunteers: Emma Shannon, Ilda Logudice, Madeleine Sullivan & Richard Dyer.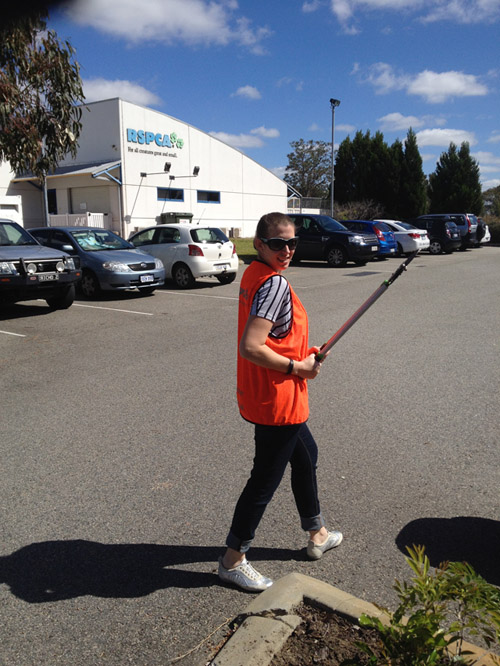 Image: Ilda Logudice, one of Globetrotter's Travel Managers with the gardening clippers ready to start work.
For more information about how you can get involved click here.